STAINLESS CLASS!   PROFILE RAILS MADE OF STAINLESS STEEL
We have modernized our range of components for stainless steel mounting systems from the ground up in terms of performance and appearance, bringing them into line with our tried-and-tested steel variants. The general overhaul focuses on the familiar 45/45 and 45/90 profile rails, including the associated components. As part of the portfolio overhaul, we have adapted add-on parts such as mounting angles to the new rails, which now present a uniform appearance. As a result, components such as the universal knot are now also available in stainless steel. All add-on parts, such as angles and knot triangles, are also equipped with an improved perforated plate. In addition to the profile rails, we are now introducing the corrosion-resistant Stex MP-X quick-fixing system based on Stex 45.
With the Stex 45 mounting plate MP-X, we use a plastic cage as the retaining part. This is unavoidable for production and cost reasons. Stex MP-X is only available in stainless steel V4A. This makes it suitable for applications with high corrosion protection requirements. Examples include outdoor installations that are exposed to salt or production plants that process aggressive substances.

Unlike most competitors, we continue to offer all stainless steel products in two material type quality categories - in V2A and V4A. MEFA customers can therefore also work flexibly and cost-optimized in outdoor areas.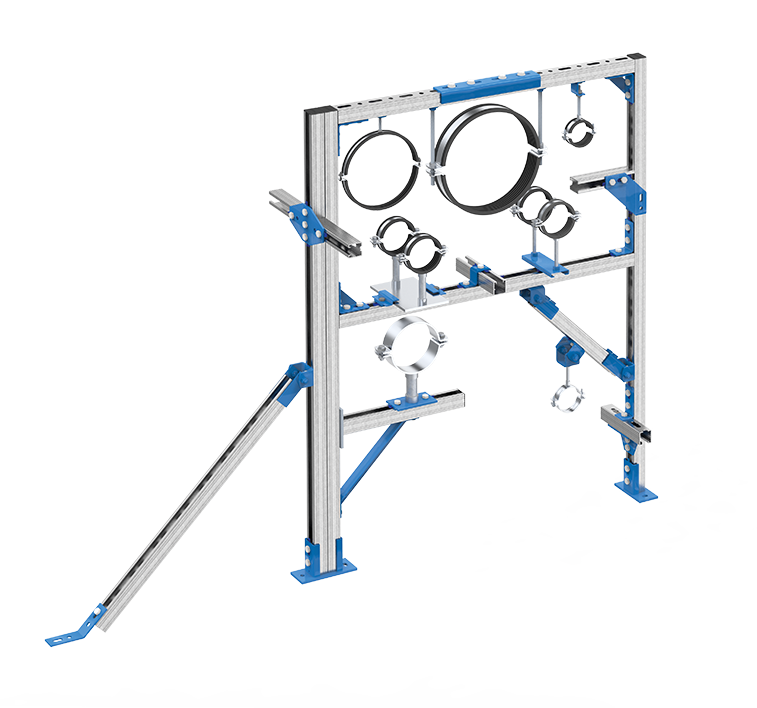 Increased performance due to optimized geometry
Best ratio of weight performance
Unbeatable in axial angular impulse
Fire safety proof according to DIN EN 1993-1-2 (EC3)
Excellent recognition due to modern design
THE SOLUTION FOR A TIME-SAVING INSTALLATION
THE NEW QUICK-FIXING SYSTEM STEX 45 MP-X
Stex MP-X is the logical further development of the quick-fixing system Stex 45. As with other Stex components, quick and uncomplicated one-hand mounting is possible.
It can be easily aligned after placement, even when mounting risers.
Stex MP-X is specially designed for use in areas with increased requirements on corrosion protection.
The combination of stainless steel tooth plate and plastic cage forms a technically mature and cost-optimized solution. Stex MP-X can be quickly and easily placed in the 45/45 and 45/90 profile rails and, thanks to its very flat design, it is ideal for fixing of connecting components.
INSTALLATION ADVANTAGES
Insert Stex MP-X, turn 90°, position, place component and screw in screw or bolt (counter threaded bolt with nut and washer).
No cumbersome insertion of tooth bolts or tooth plates - Self-acting retention in MEFA profile rail. Simplifies the mounting of add-on parts such as sliding elements or connecting components in rail constructions.
Stex MP-X is optimally designed for hole pattern of add-on parts. Two mounting plates placed next to each other guarantee exact hole spacing.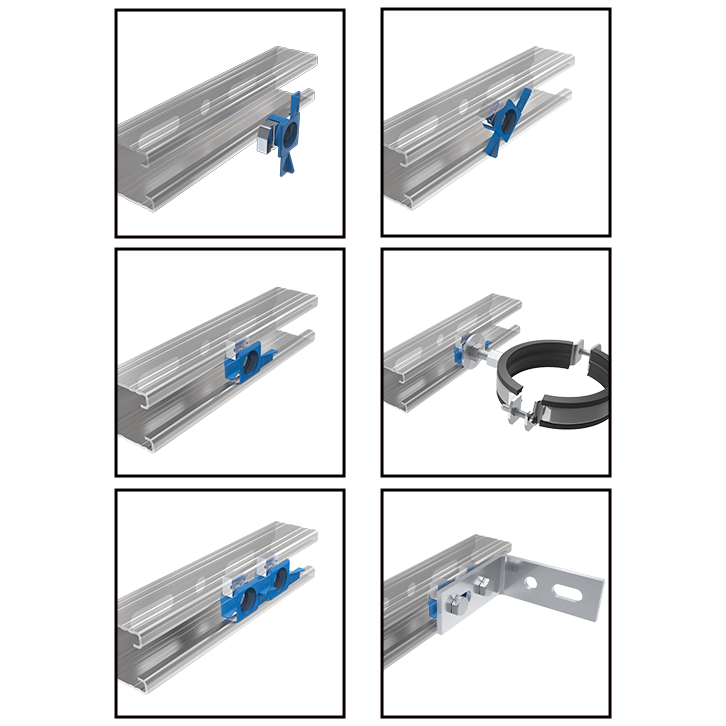 Knot triangle 4-hole C-profile 45 V4A
90 ° Wing 102,5 x 102,5 mm
View Details
Universal knot 4-hole V4A
152,5 x 152,5 x 5 mm for profile 45
View Details
Stainless steel mounting systems