ENVIRONMENTALLY FRIENDLY AND EFFICIENT HEATING IN THE INDUSTRIAL SECTOR
July 2017 in Kupferzell. The new production and logistics center of MEFA Befestigungs- und Montagesysteme GmbH was inaugurated with a large celebration for invited guests and an open day for all interested local residents.
The new building with production, shipping area, offices and a high-bay warehouse on a total floor space of about 15,000 square meters is quite impressive. But the complex is not only visually impressive. As a company that is itself active in the sanitary, heating and air conditioning sector, modern and sustainable heating and air conditioning technology played an important role in the new building. "In the new production and logistics center, we have installed our own product solutions from our MEFA energy systems division," explains Martin Schneider, managing director. A monovalent heat pump heating system was installed in the entire hall and office complex, which is the only heat source that covers the complex's entire heating requirements. "The heating technology meets the KfW55 standard," Schneider continues. This means that the building's energy consumption is reduced to just 55 percent of a comparable new building.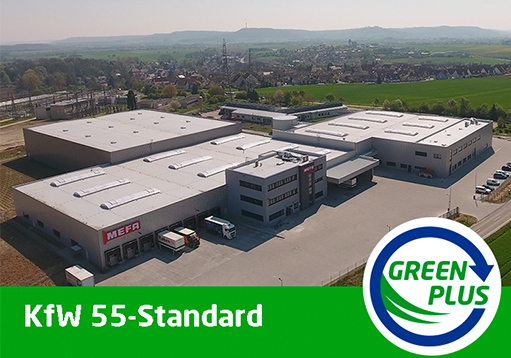 CASE STUDY KEFF
Due to the company's own business division, it was self-evident that these systems would be used for environmentally friendly and efficient heating and cooling of the rooms. The idea for an overall energy concept came about through cooperation with the "Regionalen Kompetenzstelle Netzwerk Energieeffizienz" (Regional Competence Center Network Energy Efficiency), KEFF for short. A reversible brine-to-water heat pump in monovalent operation was implemented, which is fed by ground collectors. In addition, an ice storage tank and a concrete core activation system are used as storage medium. The required electrical energy is generated by a PV system.
A project that can certainly serve as best practice. KEFF also sees it that way and has recently put the MEFA case study online. We would be very happy if we set a good example and many more companies heat and cool their buildings sustainably with MEFA energy systems products.
You want more detailed facts and figures about the case study? MEFA case study of KEFF (only available in German)